Overview of the Collection
Mason Libraries currently houses over 300 artist books in Fenwick Library.
These books are purchased by the liaison librarians for the School of Art and the English Department, but for conservation reasons they are housed in Special Collection and Archives on the second floor. These books can not be checked out of the library, but you can set up an appointment to see the collection.
How Books Work by Julie Chen and Clifton Meador (see catalog for more information)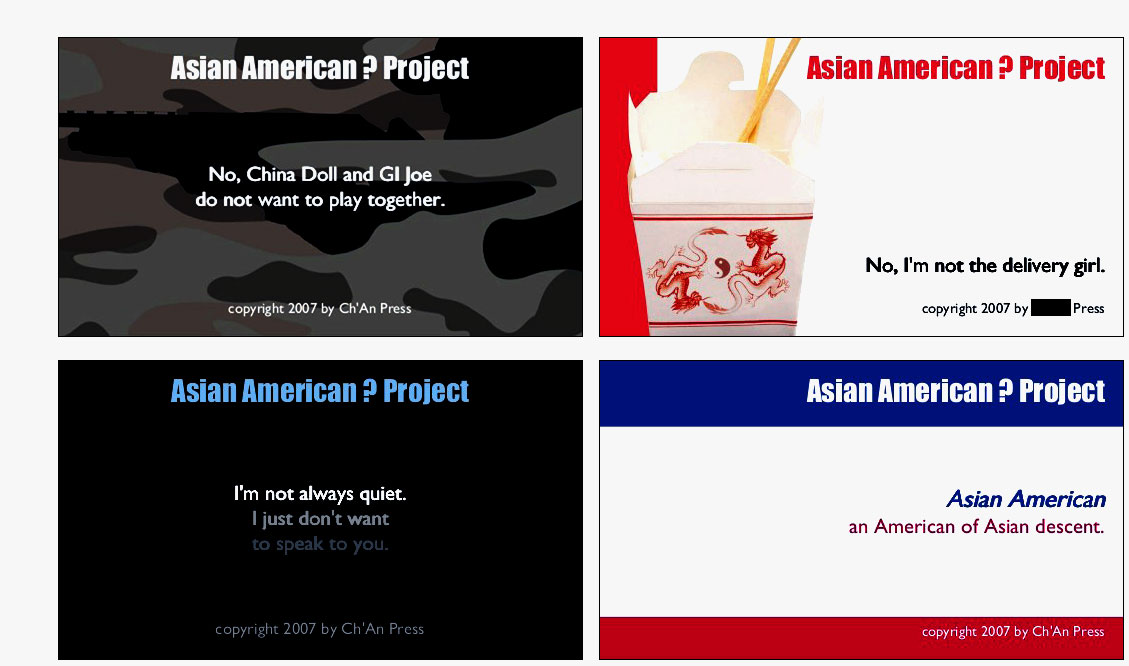 Asian American ? Project by Irene Chan. Washington, DC: Ch'An Press, 2007. Open Edition.
Image from Vamp and Tramp Booksellers
The View is Daunting by Helen Frederick (Associate Professor & Director of Printmaking at George Mason University)
Image from the artist's website

"Artists' books take every possible form, participate in every possible convention of book making, every possible "ism" of mainstream art and literature, every possible mode of production, every shape, every degree of ephemerality or archival durability.
There are no specific criteria for defining what an artist's book is, but there are many criteria for defining what it is not, or what it partakes of, or what it distinguishes itself from...
Artists' books are a unique genre, ultimately a genre which is as much about itself, its own forms and traditions, as any other art form or activity. But it is a genre as little bound by constraints of medium or form...It's an area which needs description, investigation, and critical attention before its specificity will emerge."
From; The Artist's Book as Idea and Form by Johanna Drucker
So what is an artist book, anyway?
Artists' books are not easily defined. Simply put, an artist book is a piece of artwork in book form. The content and form of artists' books are inescapably tied together. As a result, they are able to communicate ideas on multiple levels.
Artists have been creating books for centuries, but artists' books comprise a new field. The term "artist's book" was originally used to describe books created in the conceptual art movement of the 1970s.
Artists' books today stand out from earlier creations because the books themselves are considered works of art and not just ways to display art. A typical artist's book is handmade and a limited edition.
Artists' books defy the traditional book format by going beyond simple text with visual images, unfolding pages, unusual bindings, and molded cases.
They come in a range of shapes, sizes, materials, and subjects. One book may be created out of handmade paper, one out of metal, and another out of wood. Some artists' books are miniature and others are gigantic.
Author and artist Johanna Drucker provides a thought-provoking explanation of artists books below.
Artists' Books: A Definition for the 21st Century
See What's Going on in the Library
Papermaking at Pyramid Atlantic Center
Resources. Research. Results.
Jen Stevens
JavaScript disabled or chat unavailable.
Contact Info
Liaison Librarian
A244 Fenwick Library
Fairfax Campus
703/993-2211
jsteven7@gmu.edu
Send Email
Who do I contact for more information?
If you would like more information about the artists' book collection in Fenwick Library or if you would like to set up an instruction session, please contact the Visual Arts Liaison Librarian.
If you would like to set up an appointment as an individual researcher, you can contact the Special Collections Department.
Loading...